In an effort to help our frontline workers who continue to help so many throughout COVID-19, Hunter partnered with Dr. Jennifer DeLaney and Dr. David Katzman of Washington University in St. Louis, John Burroughs School and PASCO Systems to provide engineering and manufacturing resources to build Powered Air Purifying Respirators (PAPRs) for healthcare providers.
According to the CDC, 16 percent of healthcare workers have gotten infected with COVID-19 and thousands of healthcare workers have died. According to the federal regulators, PAPRs are 2.5 times more effective at reducing the risk of healthcare workers getting COVID-19 or other respiratory infections.
Dr. DeLaney and Dr. Katzman developed the idea to build PAPRs from recycled CPAP machine motors and worked with the computer science and engineering department at John Burroughs High School to design and build the first prototype with the assistance of St Louis City and County schools and Pasco Systems. An all-volunteer team from Hunter Engineering, including Alex Greenhill, Jeff Talbott, Doug Foht, Mike Gerdes and Nick Colarelli, worked with Drs. DeLaney and Katzman to streamline the manufacturing process and convert the steady stream of donated CPAP machines into PAPRs.
"Hunter Engineering is dedicated to make our country safer in everything that they do!" noted Dr. DeLaney.
Hunter collaborated with contract manufacturer, Zober Industries to set up an accredited manufacturing and quality system. The first PAPR were approved by the National Institute for Occupational Safety and Health (NIOSH) in November with the first units delivered this week.  The Hunter/VHA ADAPT is one of only six PAPRs approved by the CDC/NIOSH to protect healthcare workers during this public health emergency.
A special thank you to Dr. DeLaney, the Hunter team, and other partners who contributed to help make this possible.
Hunter and PAPRFORCE are now accepting additional recycled CPAP machines.
Learn more about how to donate your CPAP machine.
To learn more visit paprforce.com
Update:
Madhus distributes a new type of Hunter equipment in India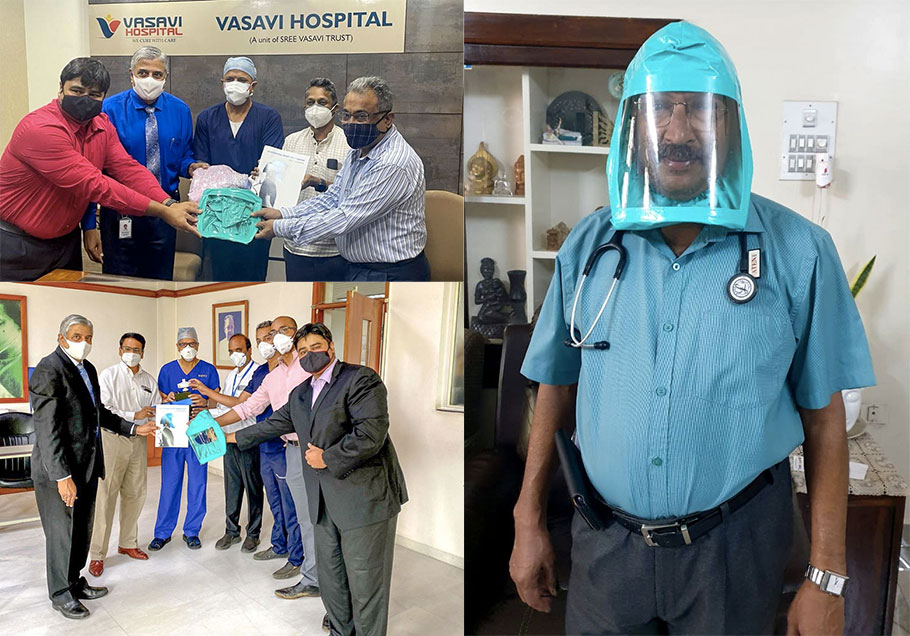 As part of the effort detailed in the article above, Hunter has also donated a number of PAPR units to help fight COVID overseas. Madhus Garage Equipment in Bangalore, India has taken the lead in distributing 20 of these units to needy hospitals in their area.
Ravi Bungale, Madhus managing director, reports, "The need of the hour was to safeguard the health workers. We at Madhus appreciate the great gesture, and we completed the work Hunter started by reaching out to various hospitals and doctors. We chose them with a lot of care, to ensure they're put to use by the right people and for the purpose they were given."
Top Left: Srinivas Gupta, chairman of Vasavi Hospitals, accepts three PAPR kits in Bangalore.
Bottom Left: Dr. Devi Shetty and team accept three PAPR kits at Narayana Health Hospital in Bangalore. Dr. Shetty is one of the most renowned heart specialists in India, while the Narayana chain is considered one of the country's best.
Right: Dr. Satish is a private practitioner at Shashank Clinic in Bangalore who treats 75 to 100 patients for fees of $2 to $4 U.S. "These are individual doctors doing great service to mankind," said Ravi Bungale.
For more information, visit https://upstatehunterguy.com/contact-me/
Hunter Engineering Company® is the global leader in state-of-the-art wheel alignment systems, wheel balancers, brake lathes, tire changers, lift racks, diagnostic scan tools and ADAS recalibration equipment. Hunter equipment is approved and used by vehicle manufacturers, automobile and truck dealers, tire dealers and service facilities around the world.